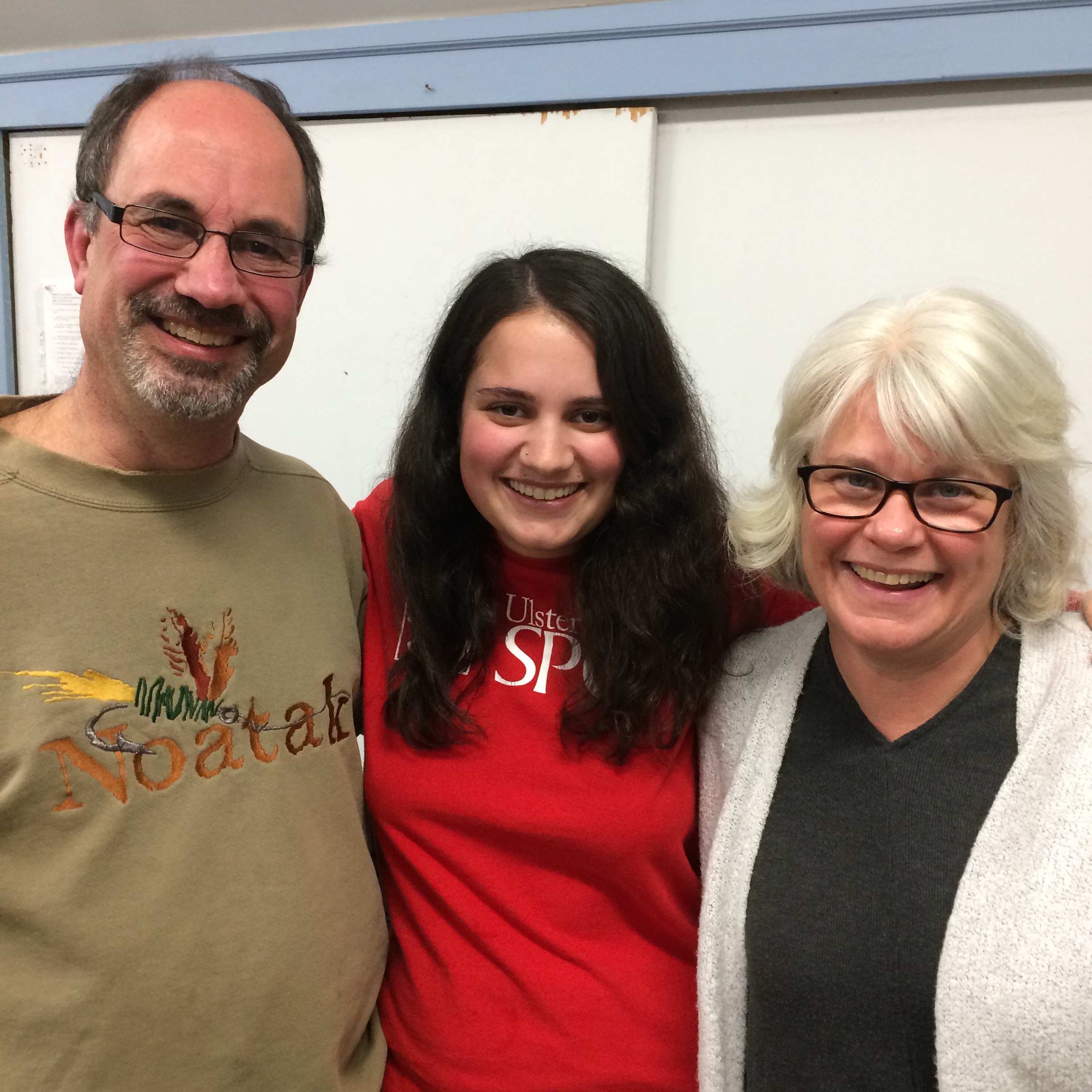 18 Feb

The Family That Sings Together…

Within the 53 members of Ars Choralis, around 23 have family in the chorus. There are parents and their children, grandmas and their grandchildren, mothers and sons, aunts and nieces, cousins, married couples.






The Ulrich family has the biggest family representation presently: four singers. Jim sings bass, is a fine soloist, and also often narrates in our concerts with his soulful speaking voice. His wife, Sue, (alto2) is an avid musician playing many instruments including hammer dulcimer. Their son Matt is compared to Irish tenors; he also sings many solo parts for Ars Choralis. Matt's wife, Marla, has recently rejoined Ars Choralis and sits in the alto 2 section. Marla is a band teacher at Rhinebeck Middle School. When asked if they sing in the car on the way home from rehearsal, Sue quipped, "I can't imagine singing on the way home but we do drive each other crazy singing little parts around the house when it is concert time. We get some serious ear worms going!"

Jim and Holly Moore (bass and alto, respectively) joined Ars Choralis a few years ago. "We both grew up in families where singing was a big part of life—in choirs at church, in the car, around a campfire, etc.—so from earliest childhood we both have loved to sing," says Jim. Jim's career in the ministry brought them years of choir and singing experience, including his agreeing to temporarily direct the church choir in Warwick NY . He did that for over 14 years! They later sang in the Camerata Chorale in Poughkeepsie. After moving to Woodstock they missed singing. "I attended an Ars Choralis Welcome Yule concert. That was a terrific concert, and as I listened I knew it was time to get back into a choir."

In the soprano section, Sue Ellen Sheeley sings with her granddaughter, Kailey Campbell. Sue hosts music events at her B&B "The Sheeley House" in High Falls. Many of the shows are Ars Choralis Artist Within performances, featuring members of the chorus and guests. Sue Ellen has been in Ars Choralis for many years, while Kailey just joined a few years ago. As a three year old, Kailey accompanied her grandmother on the Ars Choralis tour to Hungary and Austria in 2001. In 2018, she traveled with the chorus to Italy as a singer in the soprano section.

Jim and Mary Noecker and their daughter Katelyn sing in three different sections; tenor, alto and soprano. Jim was the first to join in 2006, but Mary followed shortly after. "Katelyn joined the Hudson Valley Youth Chorale which Barbara [Pickhardt] directed when Katelyn was in 2nd grade up through 8th grade. I joined the board on the Youth Chorale, and got to know Barbara, and the youth chorale was always a guest of AC for the Christmas Concert," says Mary. Katelyn added, "For me personally, I wanted to continue to be involved with Barbara's endeavors after aging out of HVYC."

People familiar with Ars Choralis know that Barbara Pickhardt's daughters, Erica and Kristen, both appear with the chorus regularly on cello and piano. It delights the chorus to hear them ask for clarification from Barbara at rehearsals, beginning with "Mom!" In addition to Barbara's two daughters, she is joined by her singing granddaughters Anna Tuttman and Amalia Martinez, both students at SUNY Albany.

Mary Leonard has been singing alto and working closely with Barbara since 2002. She encouraged her niece, Amy Martin, to audition. Both Mary and Amy are area music educators. Here is where it gets complicated… Mary's first cousin is the father of Todd West, a tenor, which makes them…second cousins? Or is it cousins, once removed? Mary says, "But Todd was encouraged to join by Mark Josefski," another tenor in AC. Mark J. explains, "Todd's wife (Judy) is my first cousin."

Carolyn and Bill Wolz met while singing with Ars Choralis back when it was called The Mid-Hudson Madrigal Singers. Carolyn has been in Ars Choralis longer than any other choir member. "I had been singing with them since 1966," Carolyn says. "I met Jim and Sue there, too, and Jim and Mary and Jim and Holly. But Bill's the one I married."

Note: Over half of Ars Choralis members joined as individuals. So if you are not related to anyone in the chorus, but would still like to audition, do not be discouraged by this post!